NEWS: Plan-B for OpenOffice.org launches public beta test
OpenOffice.org is the first application, supported by Plan-B™ technology.
Melrose, MA - Nov. 14, 2006, Conficio, has announced the public beta phase of its Plan-B™ for OpenOffice.org support service. This service allows anyone, especially non technical users, to find answers to their questions quickly and to understand the documentation effortlessly. Plan-B™ is a new technology that documents software with short videos (screencasts) and offers smart search technology for improved indexing.
The new service is available at http://openoffice.screencast-tutorials.com/index
To sign up for the public beta test go to: http://openoffice.screencast-tutorials.com/auth/register
Software support is expensive
Are you a help desk manager and your support representatives spend most of their time answering the very same set of questions? Is your Plan-A working?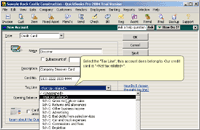 Watch a demo featuring QuickBooks Pro® here…
Are you a professional and spend too much time helping your clients mastering software issues? Do you make the most of your time?
Do you write a software column and struggle to explain your "Tip of the Month?" Could you improve your game?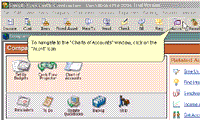 See screenshots from the demo featuring QuickBooks Pro® here…
We think you should try Plan-B! Plan-B is powerful technology, that transforms computer jargon into visual help. After all, 70% of users prefer to learn visually. Let us help you answering frequently asked questions through the use of images and plain English.
Modern software is rich in graphical user interfaces (GUI) and functionality. However, the medium for help has remained written documentation, wether on paper or online. Do you know users' most common complains about online help?
I can't find what I'm looking for.
If I find anything, I do not understand the instructions.
I have given up using the help menu.
This sentiment extends beyond online help to web based knowledge base systems, frequently asked questions lists (FAQ) and software tips in newsletters.
We can do better! The key to teaching modern software is screencasting. Remember, "A picture is worth a thousand words." Conficio has developed Plan-B, a technology to produce animated screencasts from screen recordings. Plan-B is web enabled, visual help, that makes computer jargon more understandable.
Contact us with your problems and we show you how to make your operations more efficient and give you that competitive advantage in the market place.
Plan-B Version 2.0 released
Conficio announces the next generation of streaming media software for Internet based help. Today, the company released Plan-B technology version 2.0. This technology is a new way to demonstrate software applications over the Internet and answer the frequently answered questions (FAQ).
Visual technology is much more efficient than written step by step instructions. Conficio released the Plan-B Player 2.0, an Applet integrating seamlessly with Java™ enabled Internet browsers, such as Internet Explorer 6.0 or Netscape 7.0.
The Plan-B technology can be used in marketing, sales and IT support. Currently, Conficio pursues its application for popular financial software, such as QuickBooks® or Mind Your Own Business (MYOB®).
Read further technology details here…
How to create a credit card account in Mind Your Own Business™ (MYOB®) here…
Understand Google's spelling correction here…
Watch a How to create a Mail Merge in OfficeXP™ here…
How to search in OpenOffice Writer using wildcards (or regular expressions) here…
How to export a text document as PDF in OpenOffice Writer here…

MYOB® is a registered trademark of MYOB Technology Pty Ltd.
Google™ is a trademark of Google, Inc.
QuickBooks® is a registered trademark of Intuit Inc.